"The desire for social change and a belief in photography as an expressive medium that could mirror social problems and promote social change became the League's guiding principles," (Tucker, 8)
Before the Great Depression, during the 1920s, Jews had had their first taste of economic stability.   Once The Great Depression hit, some of the hopes and dreams of a better life immigrants had for their children in regards to education and economic success were stalled. In 1930, photography was not considered fine art in New York, let alone anywhere.  When the New York Photo League was founded in 1936, it became more than just a community of photographers: it was an invaluable resource. Aspiring photographers could join for small fees, which were not always enforced, and have to photographic competitions, guest lecturers, film presentations, chemicals, darkrooms, and schooling. Instead of attempting to escape the world the photographers were a part of, a world of unemployment and homelessness from The Great Depression, they were taught to cope with their world through what they called, "honest" photography. The photographs were not to be posed or manipulated like with pictorialist photography, and were of subjects in daily routines and normal lives: that is where the power came from these photographs. Although the League shut down in 1951, the photographs that came out of its schooling were incredible. In time when poverty and social problems were too consuming allow any public commitment to art and aesthetics to flourish in a crowded city like New York, The Photo League championed photography as a true art form. The progressive movement in fighting the Depression was captured by the League and specifically two Jewish photographers, Sid Grossman and his student Vivian Cherry.
Sid Grossman, born in Manhattan on June 25, 1913 was one of the original creators and philosophical mentors of the Photo League with Sol Libsohn. When he was young, his father walked out on his family and left his mother to support herself and her four children. At age 23, he joined The Film and Photo League which then, at age 24, led him to create The Photo League. He was an avid photographer of urban areas of New York, similar to that of where he grew up. Following World War II, he began to photograph still "honest" photographs but less of realist subjects. While in the Photo League he was an instructor in documentary photography as well as a mentor.
Vivian Cherry began her career in the early 1940s while she was also working as a dancer in Broadway shows as well as night clubs. While she was a darkroom technician for Underwood and Underwood, which was a photo service for news organizations, she began taking photographs of what she saw in New York. In search of more skill, she joined the Photo League where she studied with Sid Grossman. She said of the photo league, "I was in a fantasy world when I was a dancer," she said. "And this was reality. And so much was going on in that period. And I wanted to be part of it." Her photographs tended to focus on social conditions in New York through capturing the Lower East Side garment industry, depression-era Harlem, Brooklyn neighborhood,Times Square, as well as the 1950s demolition of Manhattan's Third Avenue elevated transit line
In this photograph by Sid Grossman, you are shown a classic Harlem street. This image is  widely known in popular culture for the resemblance of the main subject to JayZ. This street photograph, was a classic scene of what the Photo League and Grossman's students took. Post the Harlem Renaissance, this photograph is full of African American Culture. From the pose of the subject to the outfit and hat as well as the instrument the man to the left of the subject is playing. You also see, what I believe, what could be a white male on the left corner. In this photograph, you see how the renaissance truly did "uplift" the African Americans through art, culture, and music. They are dressed well.  Grossman was trying to show how there wasn't such a difference between that of African American's and that of whites.
In 1946, there was a mass lynching in Georgia. One year later, Vivian Cherry took this photograph of boys playing a friendly game of lynching. It was part of a set called The Game of Guns series which was in a Parisian publication in 1948 as well as in Photography in 1952. They deal with the violence of children's play games in East Harlem in the 1940's. There are photos of children playing cops and robbers, prisoner of war games, and lynching games. These games were inspired by the, "prevailing romanticizing of movie gangsters combined with the bombardment of information about the war in Europe and the Pacific inspired a series of magazine articles about the alarming effect on young children."  They are photographs of children engaged in adult behavior in quite an uncertain world- making them that more powerful.
In The Game of Lynching, the boys- black, white, and hispanic- all took turns playing the "victim" by dropping their heads and simulating as if hanged by a rope. This picture is one of the more powerful ones that Vivian took in that set because of the African American child being the victim. Viewers are encouraged to link Christ's sacrifice with the legacy of lynching and racial violence, almost offering the African American male as a Eucharist. The photograph, and others in the set, are chilling to take in in any context but specifically when seen in the light of post-war America.
Coming from poor Jewish families, both Grossman and Cherry tried to portray the world as they saw it, disregarding what would be controversial. Cherry, with Grossman as her teacher, was able to see how photography can be used to evoke powerful emotion. As a dancer, she was able to understand the importance of movement between people that then illustrated the interactions and relationships between people. Grossman took his photographs usually without making his subjects face clear- he kept the anonymity of many of his subjects in order to preserve the meaning of his photograph. Both photographers use their pictores to focus on the environment of New York in the Great Depression and Post War era. Grossman once said, "Aesthetics does not exist for the camera as an isolated entity. Aesthetics, in fact, is inseparable from the purpose of the photographer and the use he makes of his theme. When photography fails… it is usually because a false separation has been imposed on form and content." He believed that an image should be able to replace experience if it is taken correctly. I chose these two photographs because of what they say about race relations in the city, post Harlem Renaissance.
Here are more photographs by Sid Grossman and Vivian Cherry
Sid Grossman Photographs
Vivian Cherry's Photographs
Click here for an extension of an interactive map of the Photo League in New York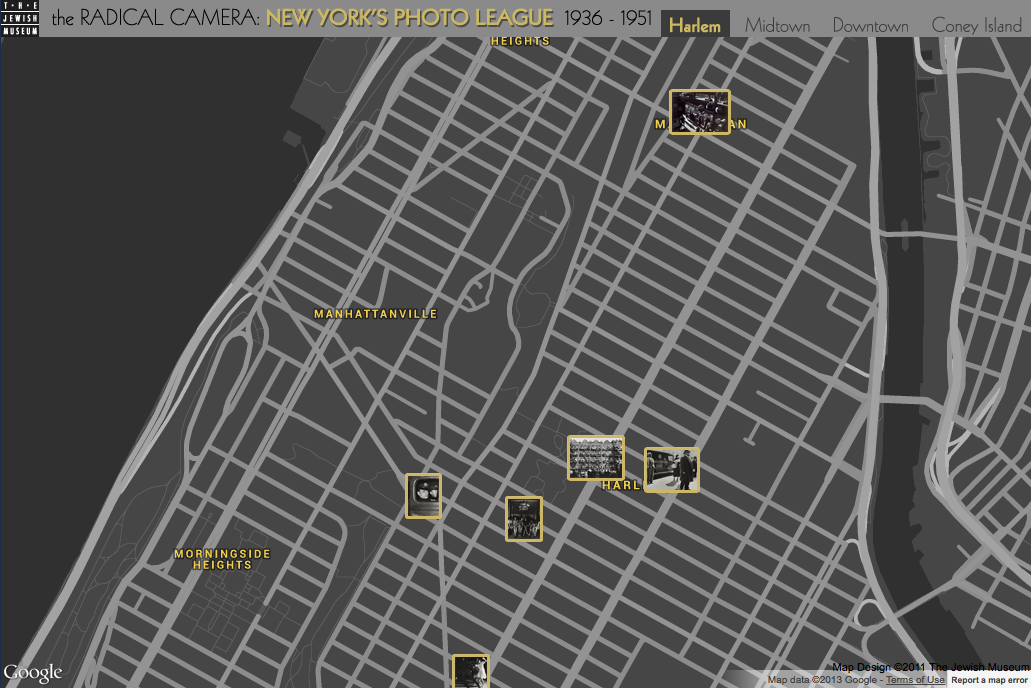 Watch a video about the Photo League and hear from Vivian Cherry herself
Watch Ordinary Miracles, The Photo League's New York on PBS. See more from MetroFocus.
Sources
Text
Anne Wilkes Tucker, "The Photo League: Center for Documentary Photography," in This Was the Photo League: Compassion and the Camera from Depression to Cold War (2001), 8-19
Walter Rosenblum interviewed by Colin Osman, Creative Camera nos. 223-224 (July 1983): 1019-1025.
Vivian Cherry, Helluva Town: New York City in the 1940s and 50s (PowerHouse, 2007).
http://photoquotations.com/a/848/Sid+Grossman
Images
 http://www.viviancherry.com/index.htm
http://collections.mcny.org/C.aspx?VP3=SearchResult_VPage&VBID=24UAYWRGZY6L
The New York School: Photographs, 1936-1963. New York, 1992, 29.
Video

http://video.pbs.org/video/2163735671/