The New York Photo League was a cooperative of photographers in Manhattan from 1936- 1951 who banded together in order to reflect their social and creative views. Although the world was going through major hardships during this time of The Great Depression and World War II, The League was able to thrive. This group of young, first-generation, and mostly Jewish photographers documented the urban life of ordinary people throughout New York City, but did so in a way that was contradictory to the federally commissioned photographs and modernistic style of the time. Co- founded by Sol Libsohn and Sid Grossman, The League changed the face of documentary photography from mere factual images to complex an challenging ones.
Sol Libsohn was born on February 5, 1914 in Harlem, New York. He grew up in New York City, which was a cultural center at the time and greatly influenced his passion for art. He was a self-taught photographer and his education quickly became secondary to his passion. He later became an active member of The Film and Photo League and when it disbanded he created The Photo League with fellow photographer Sid Grossman.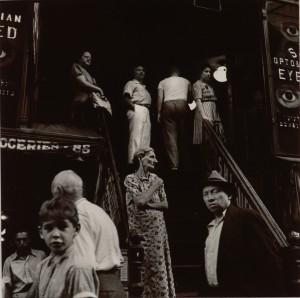 Hester Street, Sol Libsohn
In one of his many photographs of New York City, Sol Libsohn photographed the storefront of 88 Hester Street in 1945. Hester Street, specifically its market, was the center of immigrant Jewish life on the Lower East Side. But due to an influx of new immigrants coming to the United States in the 1930s and 1940s, the diversity of this shifted to include other social groups. This diversity is symbolized through all of the different directions in which the people are looking in this photograph, which is framed by the eyes on the eyeglass shop windows on both the right and left sides. This photograph is a clear ethnographic documentation of the different generations of an immigrant family that gives the viewer an insight into Americanization in fascinating ways. Hester Street also epitomizes the idea behind The Photo League, which was taking honest, not manipulated photographs of urban life. The people all seem to be caught of guard by the photographer, so we are able to get a look into their every day lives and how they act in their natural habitat. This photograph illustrates a choice on the part of Libsohn to photograph the people rather than whatever they are looking at.
Sid Grossman was born on June 25, 1913 in Manhattan, New York. His father deserted the family, which led to his mother having to support four children as a cook and caused him to grow up in a poor setting and lead a menial lifestyle. He joined The Film and Photo League in 1935 and the following year developed The Photo League with colleague Sol Libsohn. Grossman was an active leader of the group in photographing impoverished urban areas of New York, which reflected how and where he grew up. He was a very influential documentary photographer and "has been described as the organizational genius behind The Photo League", as well as "an inspiring teacher." (Van Arragon) But after World War II in the late 1940s his aesthetic began to shift away from the realist side of documentary photography. This shift is specifically reflected in his Coney Island series, which is shown through his use of drastic angles and his focus on light. In 1947, his photographs of labor union activity went under FBI investigation, which then caused The Photo League to be blacklisted as a communist organization.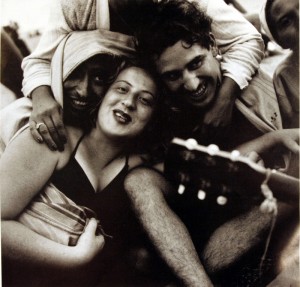 Coney Island, Sid Grossman
In the summers of 1947 and 1948 Sid Grossman photographed Coney Island. He was specifically drawn to Bay Eleven, which was the section of the beach that young and urban Latino teenagers flocked to. Grossman described that he was attracted to this area "because there were these children who had these feelings, these limbs, these relationships, who had a peculiar kind of energy." (Grossman) This series was very different then all of the past photographs of Sid Grossman, and The Photo League in general, in that it was no longer a straight photograph and it was centered on the teenagers with no focus on the actual city of New York. Other than the caption, there is no way for the viewer to know that the photograph was taken at Coney Island because of its lack of setting. Grossman centers in on moments of intimacy between these teenagers, and in most of the series' photographs he became intertwined with his subjects. This photograph represents the changing of The Photo League after World War II. It illustrates the ideas of sexuality, youth, and vibrancy and a change in aesthetic.
More images by Libsohn and Grossman: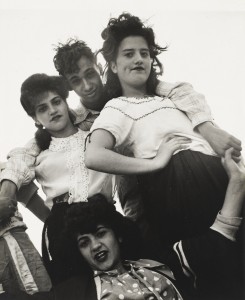 Coney Island, Grossman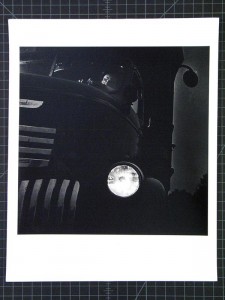 Trucker, Libsohn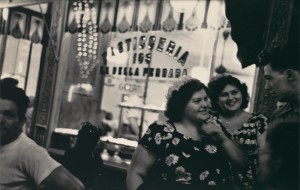 Mulberry Street, Grossman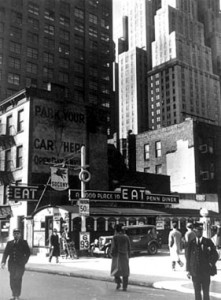 Food For New York City, Libsohn
Sol Libsohn and Sid Grossman both grew up in New York City with Jewish immigrant parents. They both fell in love with the art of photography at a young age and quickly made it their lives' work and passion. They went on to become active members of The Film and Photo League and when it disbanded they co-founded The New York Photo League. With this League, Libsohn and Grossman went on to become some of the most influential artists in American history due to their amazing photography skills and their abilities to teach and inspire the other members of The League. They both spent a better part of their lives photographing the urban streets of New York City, which encompassed the areas in which they grew up, and in doing so tried to evoke social change in America.
Locations of Hester Street and Coney Island:
https://mapsengine.google.com/map/edit?mid=ztpVw1SVb8Oo.k979HNTi9AzA
The iconic photographs Hester Street by Sol Libsohn and Coney Island by Sid Grossman are both documentary images of urban life in New York City in the 1930s and 1940s. Both of these photographs are clear representations of the ideals of The New York Photo League in that they honestly photographed the daily lives of ordinary New York citizens and in doing so strived to enact some form of social change; although, Hester Street better represents The Photo League in the years before World War II while Coney Island better represents the change in The League's aesthetic and style after War World II. They both depict immigrant life in the United States, with Hester Street documenting Jewish immigrant life on The Lower East Side and Coney Island depicting Latino immigrant life in Bay Eleven.
Works Cited:
http://www.jewishpress.com/sections/arts/jews-and-social-conscience/2012/03/01/2/?print
http://blog.thejewishmuseum.org/?p=2050#more-2050
http://leclownlyrique.wordpress.com/page/521/
http://www.pitchengine.com/columbusmuseumofart/critically-acclaimed-exhibition-opens-at-cma-april-19
http://www.wordsinspace.net/media-architecture/2012-spring/?p=616
Photo League: Views of Urban Experience in the 1930s and 1940s by Elizabeth Jane VanArragon
<http://www.youtube.com/watch?v=Cmr_L1KVdUY>
<http://www.youtube.com/watch?v=0hNWbbXGkkY&list=PL55686C4E7639E9D2>