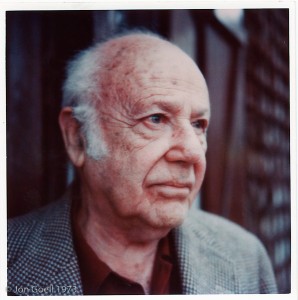 Paul Strand's portrait, photographer unknown
Paul Strand was born in New York in 1890 to Jewish Bohemian immigrants. His interest in photography began in his late teens when he took photography courses under Lewis Hine, but it was only majorly heightened after visiting the Photo-Succession Gallery at 291 Fifth Avenue (operated by Alfred Stieglitz) when he was a student at the Ethical Culture School. After viewing this exhibition of photographs, Strand found a mentor in Stieglitz and realized that he wanted to become a professional photographer. This Jewish American who abandoned a steady job in his fathers business to travel to Europe and fulfill his dreams, would later become "the biggest, widest, most commanding talent in the history of American photography" (Manhattan People).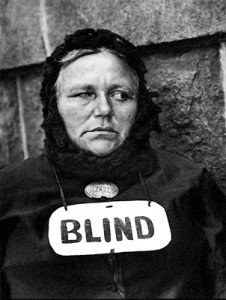 Blind Woman, ©Paul Strand
Strand believed that in the years after World War I America was developing into an age of "new thinking and new feeling," so he began a new phase of his photographic career by capturing anonymous people in the streets of New York. This series led to the iconic photograph Blind Woman in 1916. Blind Woman is seen as iconic because of how it changed the face of photography in America. This photograph was a major factor in the change over from picturesque cityscapes to images with real artistic visions. Blind Woman also greatly influenced the work of other artists such as Walker Evans and Stanley Burns. Blind Woman, though, was not meant to make a social statement in the eyes of Americans. It was simply the idea of taking an individual in everyday life and exposing them to the public as an object of investigation.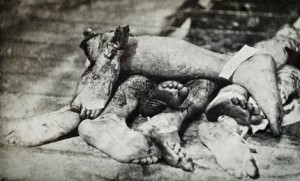 A Morning's Work, ©Stanley Burns
Blind Woman is a representation of the collaboration between Strand's influences of Alfred Stieglitz, Lewis Hine, and the cubist artists (such a Picasso) he was exposed to while traveling Europe. The cubism in this image is shown through the basic shapes of the "blind" sign, the woman's face, and the bricks behind her. It also marked Strand's shift into straight photography, which is photography that attempts to capture an image in the purest and most object form possible. Strand was able to do this by using a camera with a right- angle lens that allowed him to go almost undetected when taking photographs. This style is shown in Blind Woman through the contrasting components of the simple white sign, the fleshy face, the dark shawl, and the seemingly lifeless eyes. The distorted eyes in the photograph leave the viewer in a state of shock because the woman's eyes are open but it is clear that she cannot see. This photograph represents the stark realness and lack of beautification in Strand's work. Alfred Stieglitz said it best by stating that Strand's photographs are "the direct expression of today."
Jewish photographer Alfred Stieglitz was a major supporter of Strand's work, specifically Blind Woman. This made have had to do with the Jewish idea of sticking together in rough times, because the early 1900s were filled with harsh discrimination and anti-Semitism in America. Whatever the case, Stieglitz brought the photograph to public attention by publishing it in his influential journal Camera Work in 1917. This led Strand's New York street portraits to become wildly popular and they are still seen today as "Strand's most exciting work" (Alan Trachtenberg). Strand then, much to the dismay of the public, abandoned this kind of photography and never returned to it again.
Sources:
http://www.nybooks.com/blogs/nyrblog/2011/nov/28/someone-elses-children/
http://www.jongoellphotography.com/galleries/portraits/photos/PaulStrand_73_Goell_v3.jpg
http://arthistorynewsreport.blogspot.com/2012/10/paul-strand-philadelphia-museum-of-art.html