Photos & Analysis
In an introduction to his book Arthur Leipzig includes the following end note:
 "Most of the photos in this book were taken on assignment for magazines and newspapers, or as part of independent projects. A few of the photos, such as Sleeping Child, were simply wonderful moments that suddenly presented themselves, demanding to be captured." -Arthur Leipzig (Growing Up in New York)
After walking around Ann Arbor for several hours taking pictures I think I understand what Arthur Leipzig is referring to. Some of my images were very deliberate; for example, sometimes I was very purposely taking pictures of people riding the city buses or I was very deliberately looking for trash to photograph. Then, at other instances, images created themselves and I merely noticed and captured the moments. Some examples of more spontaneous moments that will be seen below are Cyclist and Dog and Squirrel Games. 

Direct Imitation
When taking on Leipzig's photographic eye I wanted to not only imitate his style or content matter. For a few pictures I also wanted to make these images largely resemble some of Leipzig's images. I would like to begin by including the most successful results below, compared to the Leipzig image they are supposed to mimic.
Indirect Imitation: Capturing the Spirit of Ann Arbor
The remaining pictures taken are more indirect imitations of Leipzig's photography. These photographs contain the same subject matter in Ann Arbor as Leipzig photographed in New York or they merely attempt to present a picture of Ann Arbor as Leipzig presented his own town.
This was an evolution from my original concept of the project. At first for some reason my idea of imitation Leipzig's photographic style was to only aim to very directly match Leipzig's photographs. I found this both extremely difficult and extremely limiting. Then, while at the John Prine concert I could not get many clear photographs of the performers from my distant seat. This at first upset me because Leipzig has a few photographs of musicians performing and I could have imitated these images directly that night. Eventually, however, I realized that it was a very good thing that I was not able to get these crystal clear shots of the musicians. That night I realized I could be much looser with my imitation of Leipzig's photography. I remembered that I was trying to imitate Leipzig by portraying my town of Ann Arbor because Leipzig portrayed his town of New York, not that I was trying to exactly replicate Leipzig's images as closely as possible. Gradually, I allowed my imitation of Leipzig's photographs to grow freer and freer. I am now very glad that I eventually gave myself more of this freedom to photograph Ann Arbor.
The main way Leipzig organizes his photographs in his photobook Growing Up in New York is by clumping together images of similar subject matter. Sometimes these groupings are preceded by a small paragraph written by Leipzig. These writings either give a viewer some context for the image or information about what Leipzig was thinking at the time. Leipzig also tends to title his images very matter-of-factly. The name usually tells a viewer exactly what they are viewing. Thus, I will group and title my images similarly, some groups that contain subject matter that Leipzig also photographed and some that contain subject matter more unique to Ann Arbor.
For those who are less familiar with Ann Arbor it may be helpful to visit the following cite to better understand Ann Arbor's culture: http://www.visitannarbor.org/things-to-do/arts-culture3
Kids
Arthur Leipzig begins his photobook with a section entitled "Children's Games." I felt it was only right if I also began my photographs with a section of children playing.
I found taking photographs of local children to be far more difficult than I expected for many reasons. First, before his pictures Leipzig explains why most children in New York City played outside during this time. He says, "In 1942, television and video games did not exist. In working-class neighborhoods there was little room for playing at home, so kids played out in the streets" (Growing Up in New York). Perhaps the advancement of video games and the more often larger homes of Ann Arbor, as opposed to tight apartments, explain why I actually saw fewer children playing outside than I expected. Then, the greatest challenge arose when I finally did see children walking or running outside with their parents. Leipzig's photographs of youthful games are so remarkable because they appear very natural and the children seem to be caught in movement. The subjects are not posed in these images but merely frozen in an instant of a game. I similarly wanted to capture these natural movements. I soon realized that you must take many photographs to get one good image. This is because it is difficult to capture a non-blurry photograph of children playing. Also, a photograph only captures one short piece in time. It takes a few tries to capture an image where the children are expressing natural and happy facial expressions and movements of play, as opposed to appearing awkward.
Chalk
What I love most about Leipzig's image Chalk Games is how the random chalk drawings on the ground left by playing children create intricate and aesthetically pleasing patterns. In Ann Arbor, however, I did not see a great deal of chalk left by children. Instead, the majority of the chalk markings were left by student organizations. This seems to be an easy and effective way to communicate with other students on campus since many people see the markings as they walk by.
Graffiti
Leipzig only includes two images of graffiti in his photobook.  However, after venturing to Ann Arbor's famous Graffiti Alley on East Liberty Street and Maynard Street I encountered many interesting images and messages left by previous visitors to the location. This was the location for all of my graffiti pictures below except the last three. I had only visited this alley once before, several years ago. Thus, when I visited again the walls were completely different and I could again explore as a new visitor. I loved looking for both large messages on the walls and floor but also the fine print. Sometimes the smallest writing contained the most intriguing advice.
To me graffiti held a great potential for photography, especially in downtown areas where graffiti is abundant. After taking my own graffiti images this made me wonder why Leipzig puts little focus toward graffiti. Perhaps what this taught me and reminded about Leipzig is that he tends to focus more on human subjects in his pictures. Aside from his bridge and garbage images, Leipzig mostly presents a picture of New York City by showing the people. This allowed me to learn that Leipzig found the people of a city to be one of its most important elements. Quite differently, I found people to be important to Ann Arbor but not just in their present states. I was very inspired by the possibility of capturing old messages left behind by Ann Arbor natives or visitors. I see graffiti as just another outlet through which people can be captured in a moment. However, what is captured is a written idea rather than a present action.
Trash
The garbage section of Leipzig's photobook was by far the most surprising for me. Despite my surprise, as an imitator of his work I also took pictures of garbage. About halfway through taking these pictures I looked back at Leipzig's garbage images and I realized I was taking these images all wrong. Leipzig was not just taking a picture of a pile of garbage sitting just anywhere. The backgrounds of his garbage images are breathtakingly beautiful New York City scenery. I soon realized that I should be attempting to pair beauty and garbage. This evolving realization is somewhat visible in my trash images. Finding beauty near trash was a bit more difficult for me in downtown Ann Arbor than on the New York Harbor so I tried to find beauty in the nearby buildings and plants.
Bikes and Cars
Many local residents ride bicycles around Ann Arbor, a college town full of students without cars and also an environmentally cautious area. This is different from Leipzig's New York City where bicycles were probably less likely to be used as the main form of transportation, as opposed to subways. Yet, despite the large number of cyclists in Ann Arbor, car and bus transportation are still very prevalent.
Dogs
As I college student away from my own dogs I could not help but notice many dog walkers on the streets of Ann Arbor. However, these images are more than just an expression of my longing for my own dogs. These images reveal another piece of what life is like for the middle class of the Midwestern area. Many residents own dogs and spend time walking them along the not terribly crowded streets of Ann Arbor.
Michigan Student Life (The University of Michigan)
The University of Michigan is a huge piece of Ann Arbor and a symbol for the town because this famous university is very well known to be located in Ann Arbor, Michigan. The images display two famous symbols for the University of Michigan: a Block M and The Cube. My photographs also show a student under a sign for a large fundraising campaign currently occurring and various activities occurring on the Diag, a central location on campus.
Theaters
Ann Arbor, Michigan is famous for its "artsy" atmosphere. Theaters, shows, musicians, and performers of all types are extremely prevalent. I felt very obligated to include some example of this art in my portrayal of Ann Arbor. My focus ended up on Michigan Theater, located on E. Liberty Street. What I love about this theater is the old sign in front very evidently and proudly declaring the theater's name and location.
It is no secret that New York City has also long been known for its wide range of entertainment and venues. Leipzig made sure to capture and include several music performances in his photobook, just as I am including some images taken the day of and the day after a John Prine concert in Ann Arbor.
Content Related to Religion
The University of Michigan is a fairly Jewish campus, well above average in numbers. Thus, I found it very easy to spot aspects of the city that related to Judaism, such as dreidels, and to capture these in my portrait of Ann Arbor. Nonetheless, it was just as easy, if not easier, to also spot symbols of Christianity and other religions.
The large amount of Jews living in Ann Arbor or attending the University of Michigan is important to me. This helps me feel more at home in this new town with a piece of my identity well represented in many others living here. I believe that my Jewish upbringing is partially why I noticed so many of these religious symbols around me, especially during the approaching holiday season of November. Then beyond my Jewishness just allowing me to better notice these symbols, my photography was influenced by my Jewishness because I felt very compelled to capture these Jewish elements of Ann Arbor that I saw. Not only did I want to photograph them because they show a characteristic of Ann Arbor as a fairly Jewish town, but I also wanted to photograph them because they are specifically a characteristic of my Ann Arbor. In my interview with Cory we discussed the possibility of Leipzig and I contributing some bias to our portrayal of our cities since we are making the choices when creating these collections of photography. I believe my desire to capture the religious content of Ann Arbor, both the content that does not apply to my identity and the content that does, is a great example of how I probably did somehow create a view of Ann Arbor that was not documentary but influenced by what was important to me and my choices.
Judaism was also very prevalent in New York City during the mid-1940s. It is likely that Leipzig too would have easily seen many symbols of Judaism, along with other religions, all around him. For example, due to the Hebrew on the newspaper held by the boy I interpret this image to have content related to religion.
I find it very strange then that despite Leipzig's Jewish heritage and the prevalence of so many other Jews around him in New York he does not seem to display much Judaism in his photographs, aside from this one image.
Miscellaneous
Overall, I found photographing Ann Arbor to be a very liberating and enjoyable process. The main difference between Leipzig and myself is that he was capturing and displaying a city he had been living in his entire life and a city new extremely well. My relationship with Ann Arbor is very different. Although I was fairly familiar before the city before this exploration I only understand the city at a level of an outsider or occasional visitor. By spending several hours walking around the city and looking at the people and places very closely I became a great deal more familiar with my new hometown. Rather than being an outside visitor this growing comfort with Ann Arbor allowed me to become one of the locals. Moreover, I had never explored Ann Arbor like this before: simply walking with a whim and making random decisions about where to turn. Thus, the photographs of my town are different from Leipzig's in that they reveal a developing familiarity with a hometown, rather than a cemented knowledge of a location. With each aspect of the town I explored and studied and with each picture I took Ann Arbor became more and more of a hometown to me.
Images for Further Analysis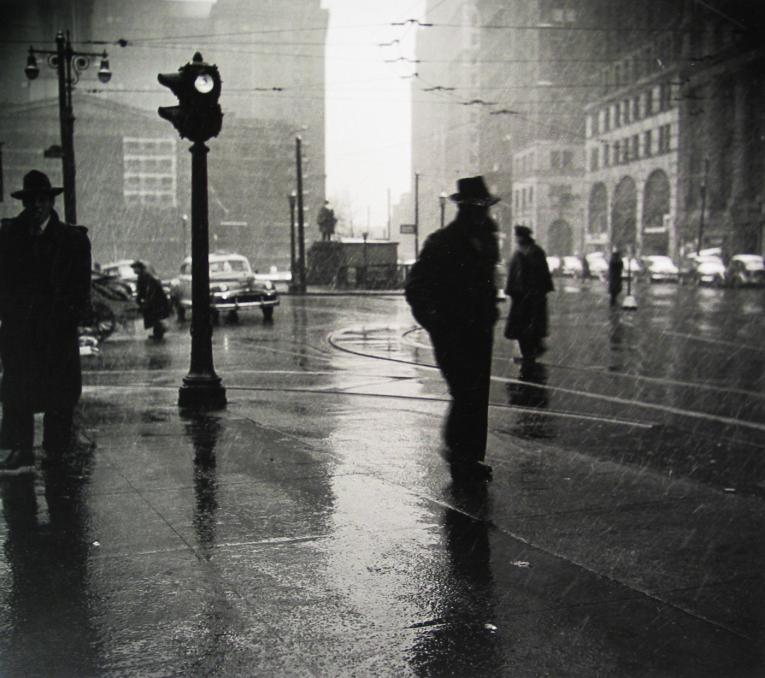 "Mist" was the first picture I took out of all my images. I even took a few more pictures from the same location of similar scenery but they were less effective than this first image. Thus, I took this photograph when I was still in my mindset of direct imitations. I was trying to imitate various elements of Leipzig's "Rain" photograph. First, I was trying to capture similar subject matter as in Leipzig's picture: a few people walking near an intersection during, or after in my case, some rain. Moreover, I was also trying to resemble Leipzig's composition. This was executed by trying to match the angle at which he took the photograph, the similar curve of the curb on the bottom, the light shining in the center of the image, and having poles stick up. The result of this attempt was an image that resembled Leipzig's yet in a different town. This reflects that the towns photographed by Leipzig and me, despite their differences, do still share basic similarities. These images, which merely show people walking around and no specific events or actions, allow the cities to be indeed very similar. This reflects a similar sense of home captured by both Leipzig and I in these typical locals just walking around on an average night.
The other image I took that I would like to further analyze is "Bus Lovers." I am particularly proud of this photograph because I put my own spin on one of Leipzig's iconic photo categories: "Subway Lovers." I knew, however, very early on that my transit photographs would have to be different from Leipzig's. I knew this because Ann Arbor does not have subways and instead has popular buses. Additionally, I had ridden the buses several times and the people of Ann Arbor simply are different from the people of New York in how they dress, their mannerisms, and more.
While riding the bus I was consistently looking for two people showing each other affection. When this mother and daughter boarded the bus I immediately had an idea. My idea was to change the meaning of lovers in my photograph from a romantic, dating couple to a different kind of couple. I decided instead to capture the pairing of a mother and daughter. My goal though was to still have the love between the two people very evident, as it is in Leipzig's "Subway Lovers" where couples are gazing into each other's eyes or kissing. Thus, I could not have been happier when the little girl began to lean into her mother, an obvious sign of love between two people in my version of a "couple."