New Media in Jewish Studies
The Liberating Lens initiative grows out of the New Media in Jewish Studies Collaborative, launched by Citizen Film and Columbia University's Institute for Israel and Jewish Studies in order to engage students and the general public at the new, visual turn in Jewish Studies scholarship.
More about Citizen Film > More about CU's Institute for Jewish Studies >
SUPPORT FROM ACADEMIC INSTITUTIONS
The University of Michigan's Provost's Office awarded a Transforming Learning for a Third Century grant for the Frankel Center for Judaic Studies and Citizen Film to collaborate on creating the Liberating Lens. The purpose of the TLTC grant program "is to fund the most exciting and innovative ideas from across the University of Michigan campus to enhance action-based, experiential learning for U-M students." This is just one example of how the NMJSC benefits from support of academic institutions around the country.
Project Leaders
---
DEBORAH DASH MOORE
Frederick G. L. Huetwell Professor of History at the University of Michigan and Director of the Jean and Samuel Frankel Center for Judaic Studies
An historian of American Jews, Deborah Dash Moore focuses on the twentieth century and the urban experience. She is the author of a trilogy: At Home in America: Second Generation New York Jews 1920-1920 (1981), To the Golden Cities: Pursuing the American Jewish Dream in Miami and L.A. (1994), and GI Jews: How World War II Changed a Generation (2004). Most recently she edited, with Marion Kaplan, Gender and Jewish History (2010), a collection of essays in honor of Paula Hyman that won a National Jewish Book Award. She is general editor of City of Promises , a three-volume history of Jews in New York City (2012), which won the Everett Family Foundation Best Book of the Year award for 2012, and co-editor with Nurit Gertz of volume 10 of the Posen Library of Jewish Civilization and Culture . Her work on Jewish photographers has been published in several collections, including You Should See Yourself, edited by Vincent Brook.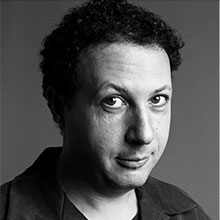 SAMUEL BALL
Co-director of the New Media in Jewish Studies
Collaborative, a program of Columbia University
and Citizen Film
For more than a decade, Sam Ball has been a director of transmedia and traditional documentaries for Citizen Film. His work has been exhibited at many of America's most prestigious venues, from the Sundance Film Festival to MoMA-NY. An experienced educator, Ball for 10 years led the New Jewish Filmmaking Project (NJFP), which guides young artists in the production of documentary films and new media projects. He has co-directed several multimedia works, including the centerpiece projection for The Jewish Museum's (NY) exhibition Chagall and the Artists of Russian-Jewish Theater 1919-1949 and a transmedia exhibition called "We Are Not Permanent But We Are Not Temporary," a 2012 installation for the JCCSF, the Contemporary Jewish Museum and San Francisco Jewish Film Festival, created in collaboration with several other professional artists and over 100 Bay Area students. Additionally, Ball has directed several television documentaries, including, most recently, Joann Sfar Draws from Memory.